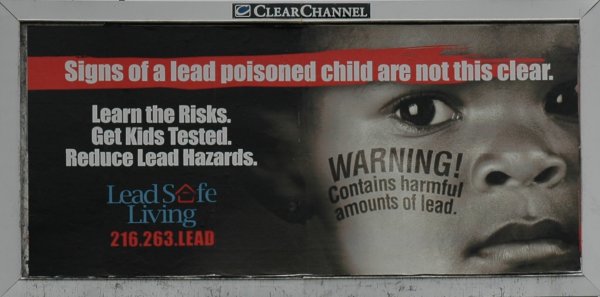 Source: TIMOTHY WILLIAMS, NY Times
A class-action lawsuit was filed Thursday against a prominent Baltimore medical institute, accusing it of knowingly exposing black children as young as a year old to lead poisoning in the 1990s as part of a study exploring the hazards of lead paint.
Lawyers for the plaintiffs say that more than 100 children were endangered by high levels of lead dust in their homes despite assurances from the Kennedy Krieger Institute that the houses were "lead safe."
The institute, a research and patient care facility for children that is affiliated with Johns Hopkins University, periodically tested the children's blood to determine lead levels.
But, the lawsuit said, Kennedy Krieger provided no medical treatment to the children, who ranged in age from 12 months to 5 years old. Lead exposure was a significant cause of permanent neurological injuries in some of the children, according to the suit. Johns Hopkins, which approved the study, is not a defendant in the lawsuit.
"Children were enticed into living in lead-tainted housing and subjected to a research program which intentionally exposed them to lead poisoning in order for the extent of the contamination of these children's blood to be used by scientific researchers to assess the success of lead paint or lead dust abatement measures," said the suit, filed in state court in Baltimore. "Nothing about the research was designed to treat the subject children for lead poisoning."
Dr. Gary W. Goldstein, president and chief executive of the Kennedy Krieger Institute, said in a statement on Thursday that the "research was conducted in the best interest of all of the children enrolled."
"Baltimore city had the highest lead poisoning rates in the country, and more children were admitted to our hospital for lead poisoning than for any other condition," he said. "With no state or federal laws to regulate housing and protect the children of Baltimore, a practical way to clean up lead needed to be found so that homes, communities, and children could be safeguarded."
"Over all, the blood lead levels of most children residing in the study homes stayed constant or went down," the statement read, "even though in a few cases, they rose."
The lead paint study, which started in 1993 and continued for six years, was designed to determine how well various levels of lead abatement would reduce lead in the blood of young children. The buildings where the study was carried out were generally in poor neighborhoods of Baltimore. Litigation surrounding the research has gone on for more than a decade, and in 2001 the Maryland Court of Appeals compared the study to the Tuskegee syphilis experiment, which withheld medical treatment for African-American men with syphilis.
According to the lawsuit, Kennedy Krieger helped landlords get public financing for lead abatements and helped select families with young children to rent apartments where lead dust problems had been only partly eliminated so that the children's blood could be measured for lead over a two-year period, according to the lawsuit. READ MORE