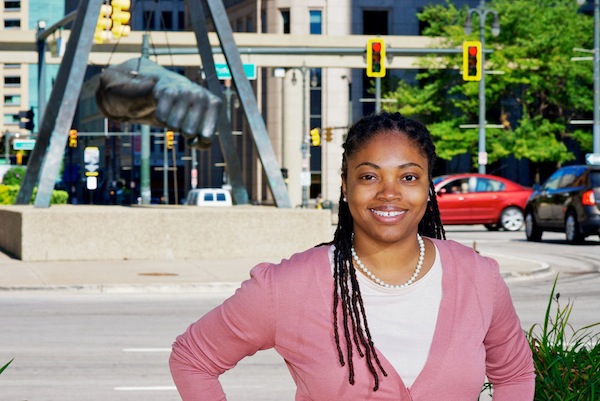 By:Desiree Cooper | Tuesday, October 04, 2011
Kirsten Ussery is not afraid of a challenge. At 33, she has done communications work for a global auto supplier, for a group of top-flight Michigan business leaders, and even for the president of Detroit's City Council.
So what could possibly give a powerful woman like Ussery pause? Until recently, it was having to tell her co-workers that she was a lesbian.
"Looking back, I think I put a lot of stress on myself," said Ussery. "Every time I've come out to someone at work, I've never had a bad experience. But that didn't matter. Afterwards, I'd think, 'That went well,' but then I'd worry about what the next person would say.'"
For Ussery, growing up in Hickory, N.C. was an exercise in being different.
"I loved alternative music, which was different from the black people I was socializing with," said the only child of a single mother. "I was also into politics, including (Black Muslim leader) Louis Farrakhan, so I didn't fit in with the white people, either."
But the major difference was not so black and white. "In ninth grade, I had a crush on a girl on the basketball team," Ussery said. "I knew it wasn't acceptable."
By the age of 15, she had come out to her inner circle, including her mother. "She said, 'I love you anyway,' but we never talked about it again," Ussery said.
Her friends helped her get a love note to her heartthrob on the basketball team, but the athlete was already in a relationship. When word got out about Ussery's crush, many of her male classmates became aggressive and cruel.
It all happened just as Ussery's popularity was emerging. As a member of the track team, she had friends and she had sports; she wasn't willing to give them up in order to make a stand for her sexual identity. "Plus, the girl on the basketball team was graduating," said Ussery. "I didn't want to become the school's 'Gay Person.' I thought I was the only one."
So Ussery went back into the closet, and started dating a boy in the neighborhood. "My mother probably thought that my coming out had been a phase," she laughed, "and she was glad to think that."
Ussery continued to date her boyfriend after she went to the University of North Carolina-Charlotte on a track scholarship. In college, she blossomed as an activist. She became involved with the Black Student Union and founded the first chapter of 100 Black Women to be established on a predominately white campus.
Then one night in her junior year, she went to a club and danced with a woman for the first time.
"My mind exploded," she said. "The next day my boyfriend came to see me and I broke up with him. He was devastated."
She wasn't the only gay person in the world, after all.
From there, Ussery's transition was swift. She quit the track team, met a woman from Detroit, fell in love, and convinced the university to let her graduate in absentia, so that she could follow her girlfriend to the Motor City in 1999.
"When I told my mom that I was coming out again and moving to Detroit, I thought she was OK, and going with the program," Ussery said.
The first inkling that she had that her mother wasn't OK was five years later when she broke up with her girlfriend. "My mother's first reaction was to beg me to come home," she said. "It felt like she wanted me to come back and be the way I used to be."
Ussery didn't return to North Carolina. By then, Detroit was her home, and she had new friends and had earned a master's degree in education from Wayne State University. But as she started to grow professionally, so did the stress of being closeted at work.
"Even though I had a good job, it was making me sick to go to work," Ussery said. "I'm not a person who can fabricate things, so when people were talking about their weekends, I just didn't say anything. I felt alienated. I'd come home stressed and unhappy."
The professional pressure mounted when Ussery met Erika Boyd, whom she married in Windsor in 2009. It was then that she realized that her mother wasn't as accepting of her sexuality as Ussery had believed. "She told me that she wasn't going to come to the wedding and that what I was doing was a sin," said Ussery. "I was blindsided. I found out that all of this time, my mother thought I was going through a phase and that at some point I'd snap out of it and come home."
Family members eventually convinced Ussery's mother to attend the ceremony and today, the two are rebuilding their relationship. But Ussery was bruised.
"That experience really affected my work life," she said. "I learned that you don't talk about being gay – bad things might happen if you do."
In fact, when Ussery took a job with Business Leaders for Michigan in 2008, she didn't mention in the interview that she was planning a wedding and a honeymoon. She got the job, and only two days before the wedding, she pulled aside her boss and revealed her personal life.
"She said, 'We know. We Googled you when we hired you,'" laughed Ussery. A Google search quickly revealed Ussery's work on behalf of LBGT children in the Detroit Public Schools and her leadership in the lesbian women of color support group SPICE – Sistas Providing Intelligence, Creativity and Empowerment. "It was such a relief," Ussery added. "From that point forward, I've been completely out."
It's in Detroit where the tentative Southern girl has come into her own. READ MORE