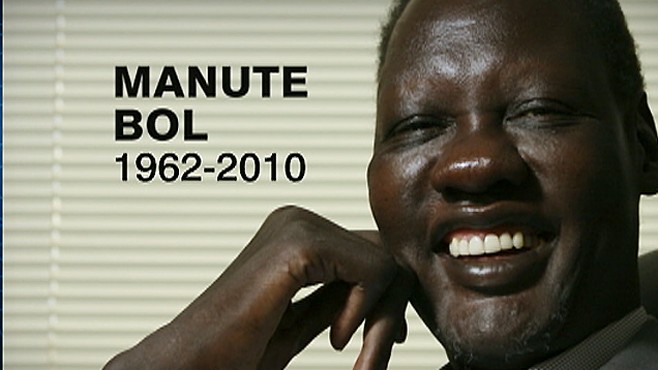 Source: VOA
WASHINGTON – A U.S.-based organization is carrying on the legacy of the late basketball star Manute Bol by continuing to build schools and work for reconciliation in South Sudan. The recent work comes despite South Sudan's many struggles during its first of year of existence as a country.
Immediately as he enters the Washington offices of the U.S. aid group Sudan Sunrise, executive director Tom Prichard points to a series of pictures high up on the wall.
"We were visiting an elementary school to talk about the needs for schools in southern Sudan," he explained. "Manute was in terrible pain. He was in so much pain he had to use a wheelchair. Manute spoke seated the whole time, but when it was all over he said, 'I want them to see how tall I am.'"
Former NBA star Manute Bol poses for a photograph at the Sunrise Sudan headquarters June 9, 2008, in Lenexa, Kansas.
​​The last picture shows Prichard holding up Bol so the American schoolchildren could see the full physical range of the 2.31-meter-tall basketball defensive specialist, who played for a decade in the National Basketball Association.
An Internet video by Sudan Sunrise shows construction of a school in Bol's hometown of Turalei in South Sudan's Warrap state. Bol, whose first name Manute means "special blessing," also appears, explaining the humanitarian ideas that drove the last years of his life.
"I want to enable kids to go to school here, between Muslims, Darfurians, Sudanese and the other countries," the former basketball star explained. " If they live around here and want to go to school here, they can go to school here. And I think that would be the best thing that I did for my people."
Bol died in June 2010 of acute kidney failure and other health problems, just over a year before South Sudan became an independent nation.
Sudan Sunrise staff recently returned from Turalei, where they worked on a new kitchen for the school. READ MORE